---
Dining

A Taste of the Island
Each night The Table offers unique PEI dining experiences. All of our meals feature fresh seasonal Island ingredients prepared daily by our Island Chefs. For our 2020 season, our signature harvest table has become one of several tables placed around the dining room to allow for social distancing between private groups.
This is Island dining at it's best, providing you with the opportunity to enjoy fresh local foods in the welcoming and beautiful setting of a renovated rural church nestled in the rolling pastoral hills of New London.
This is a night out that you won't soon forget!
Reservations are required as there are only 20 seats available.
Call us at 647-920-1542 today to make your reservation!
---
A La Carte Island Dining
Wednesday, Thursday and Friday nights
You are invited to an intimate Island Dinner! Choose from an a la carte menu that explores the flavours of each season with culinary dishes that highlight the sweet light tastes of Spring, the savoury colorful crops of Summer, and the warm calming notes of the Fall harvest. Watch as the Chefs prepare your meal and discover the best the Island has to offer from land and sea.
Join us for a true taste of the Island!
Reservations available starting at 5:00pm. A la carte menu.
Gluten-Free, Vegetarian, Pescatarian and Vegan options available.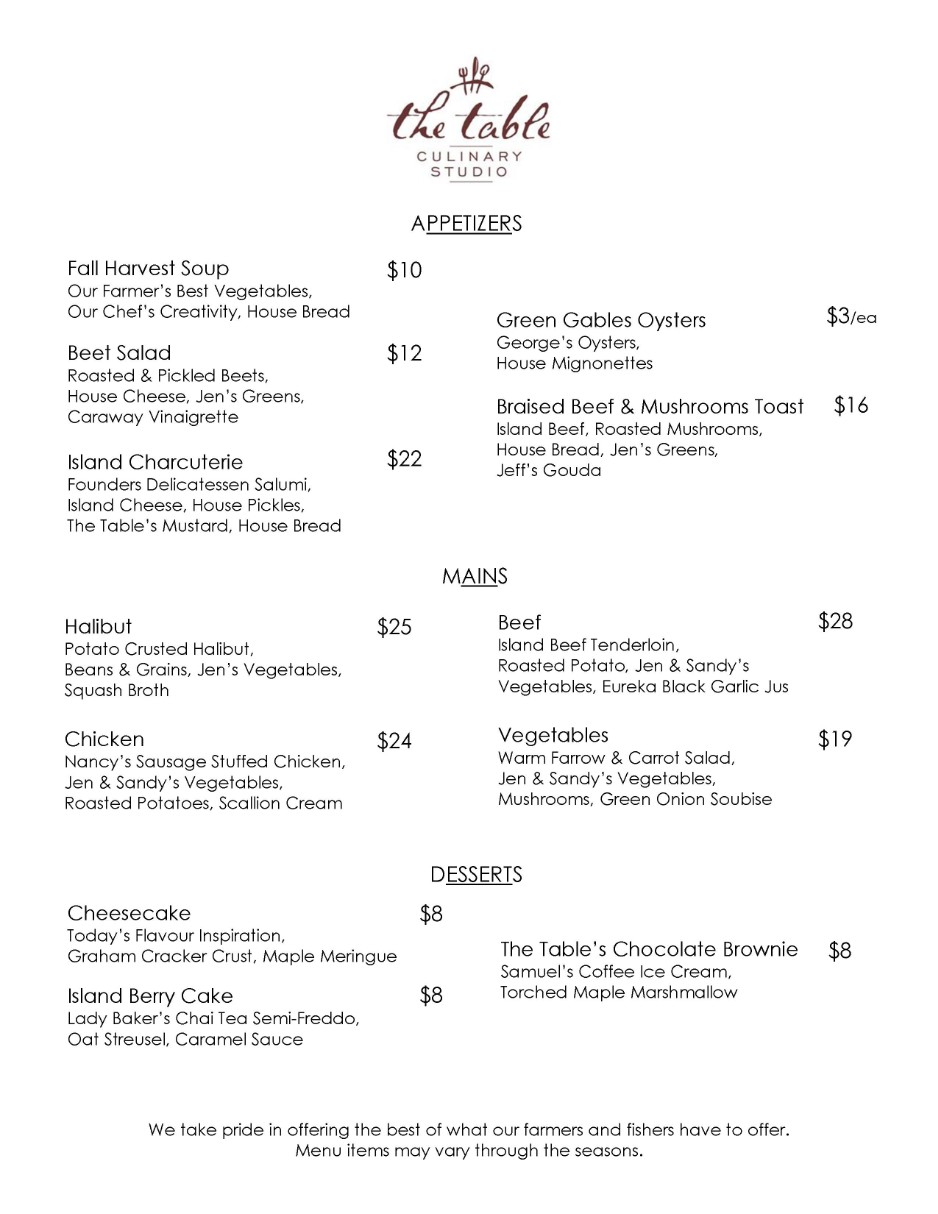 Harvest Feast
Sunday nights in September
Enjoy the bounty of the season with this four course meal designed by our Chef to celebrate the best of the harvest.
Reservations available starting at 5:00pm.
Prix Fix, Set Menu: $60/adult Babes-in-Arms dine free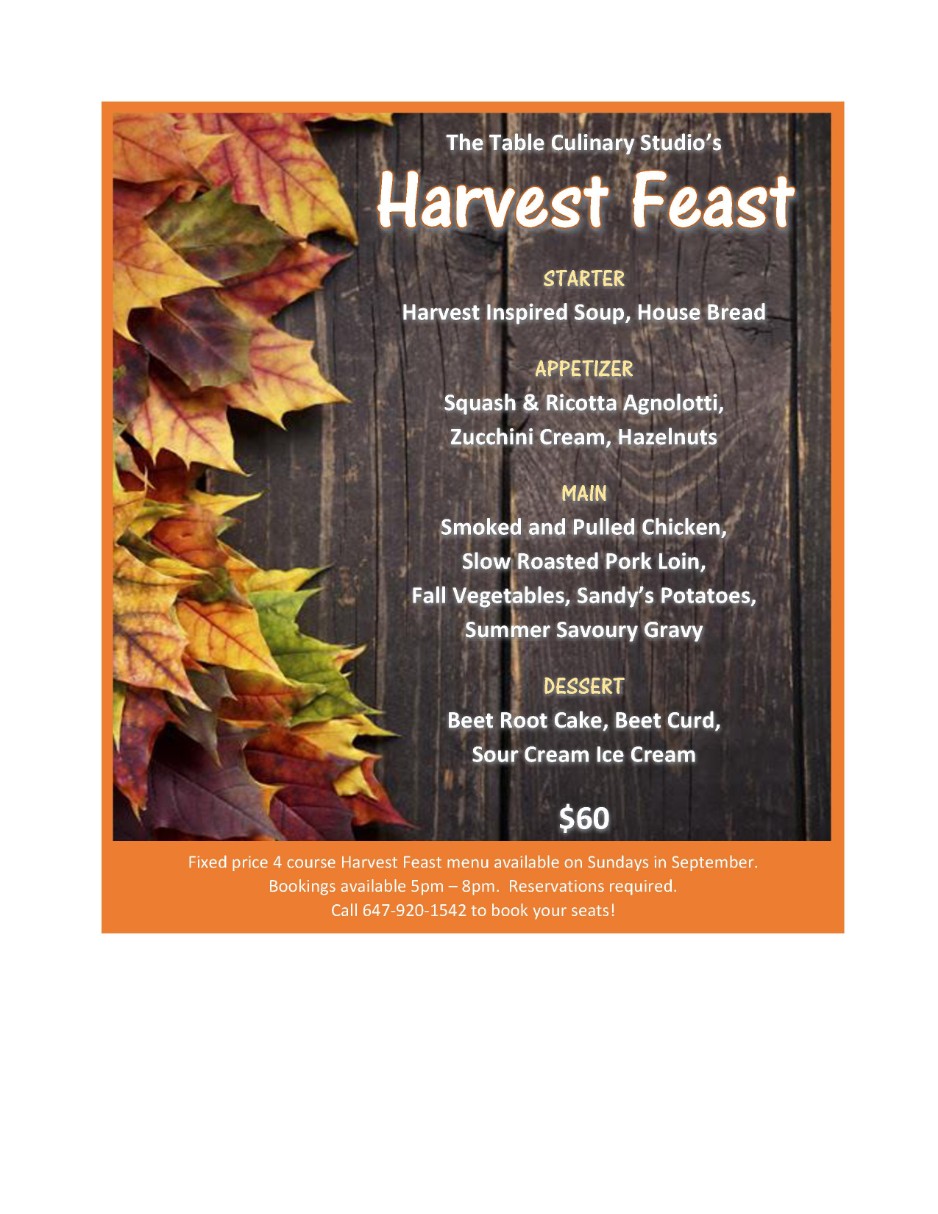 North Shore Surf & Turf
Saturday nights (June 20 to September 26)
A traditional favourite with a North Shore twist! Start the evening with charcuterie and fresh oysters in the garden. Enjoy the rural vista while speaking with the Chef as he prepares a Surf and Turf feast for you using elements of fire and smoke at our outdoor cookhouse. Have your cameras ready to capture each moment as the Island beef is flame-grilled and local lobster is cooked over the fire. Then gather inside at your private table to enjoy this mouth-watering Surf and Turf feast accompanied by steamed mussels, quahogs, fresh picked vegetables and house-made breads, and watch as the Chef prepares your sumptuous dessert. Experience the bounty of the North Shore!
In the event of inclement or unseasonably cool weather this dinner will be hosted entirely indoors.
Dinner experience begins at 6:30pm
Prix Fix, Set Menu: $75/adult $35/children (12 yrs and younger) Babes-in-Arms dine free
Cancellations

The Table's evening dining experiences are unique and intimate, offering seating for only 20 guests each night. Advance reservations are required because each meal is prepared exclusively for our booked guests. We understand that it is sometimes necessary for guests to cancel reservations due to unforeseen circumstances. Cancellations made well in advance can often be filled by our waitlist however cancellations made with no or short notice (less than 48 hours before a dinner) can leave empty spaces at the table which detract from the experience of other guests and compromise our viability as a very small business. Please, if a cancellation is required, give us as much advance notice as possible.
Thank you for your consideration.